Why "Screen free until 3"?
Experts agree that young children spend too much time on average with digital screen media. The amount of time spent with digital communication, movies and computer games is also growing among us adults. We must not forget that there are also downsides, especially for children. Excessive use of screen media by parents and children can have numerous health effects. By largely avoiding screen media in the first 3 years, you enable your child to have positive effects in various developmental areas such as fine motor skills, attention and social behavior.
Can a few hours a day, or even 30 minutes a day in front of a screen interfere with healthy development? Yes. Children develop more intensively in the first 3 years than ever before. One hour in early childhood has the value in terms of development of days or even months later in life. Every hour of undisturbed, playful self-development in early childhood is literally worth its weight in gold.
What are media; What are screen media?
When we talk about media, we usually mean the way we communicate and exchange and disseminate information, images and news.
Media can be categorised in different ways. One of them is to divide them into primary, secondary, tertiary and quaternary media according to the journalist Harry Pross. According to this, language, facial expressions, gestures and body language etc. belong to the primary media. With these we communicate directly, from person to person. When one person sends information, messages or pictures to another and uses a technical means to do so, we speak of secondary media. These are, for example, smoke signals, newspapers, books, flyers and posters. If both persons, sender and receiver, need a technical means, then we talk about tertiary media. These include radio, TV, computers, telephoning, electronic mass media and many more. Quaternary media means that both people need an internet connection, such as for social media.
To simplify matters, media can also be divided into analogue media (print media such as books; audio cassettes; CDs; records etc.) and digital media (PCs with internet access; tablets; computer games; console games; smartphones; digital television) or into screen media, audio media and print media.
The classic way to communicate information, images and news is through print media. The contents of printed media are mostly perceived visually.
Print media are:
Books, picture books
magazines, newspapers, catalogues
Brochures, flyers, posters
Maps, plans
Tiptoi books (also audio media)
Within the project "Screen free until 3" we usually speak of screen media. Screen media are electronic media. Their content is perceived both optically and acoustically (audiovisually) – i.e. in principle all devices with an electronic screen or applications for which an electronic screen is required.
Screen media are:
Mobile phone, smartphone
TV
Computer
Tablet
digital games (game consoles, computer games, mobile games, etc.)
smart watch
Digital picture frame
Navigation system
Internet and all related functions (SMS, MMS, social media, etc.)
Sometimes there is also talk of audio media. This refers to applications whose content is usually perceived acoustically.
Auditory media are:
Telephone
Radio
CDs, cassettes, records
MP3 players
Toniebox
also music from the Internet
Tiptoi books (also print media)
What types of screen media use are there?
Screen media use by the child or active use of media by the child (e.g. child plays on the mobile phone or tablet).
Media in the background or passive use of screen media (e.g. the TV is on in the background).
Screen media use by parents or caregivers (e.g. parents talking on the phone or writing emails on the mobile phone in the presence of the child).
The development of your child
Language acquisition
Your child learns language and thinking with others through talking and interacting. Screen media do not interact with children in a holistic way.
If the screen media running in the background is turned off, the child's speech utterances will be enhanced and the screen media cannot distract from listening and listening.
Bonding
When you and your child spend little or no time on screen media, you have more time together to get to know each other, communicate and bond.
Spending time together with your child expands their ability to empathise with others (empathy).
(World) experiences
Learning with head, heart and hand: It is important that your child anchors experiences with all senses (sight, hearing, smell, taste, touch) in their physical experience.
Sensually realistic and complex experiences of the world, such as in nature, lead to the cooperation of all senses and enable learning as well as experiences of self-reality.
Creativity
In the course of its development, your child learns to think, act and solve problems spontaneously. If you and your child do without screen media, you create free space for creativity – especially out of boredom – and your own individual pictures and fantasies emerge.
Without the predefined images from television, your child's own ideas for figures and actions emerge during play.
Telling stories or reading them aloud creates space for creativity and enables your child to imagine and create the characters and actions themselves.
The dangers of screen media
Excessive use of screen media by parents and children can have numerous health consequences that have not yet been conclusively clarified. Scientific studies already link some abnormalities to early childhood screen media use:
Behavioural and attachment disorders
Social-emotional developmental delay
Hyperactivity
Inattention/attention problems
Aggressive and prosocial behaviour
Delayed language development
Learning problems
Fine motor and gross motor development problems
Short-sightedness
Overweight, unhealthy diet and lack of exercise
Less creativity
Sleep disorders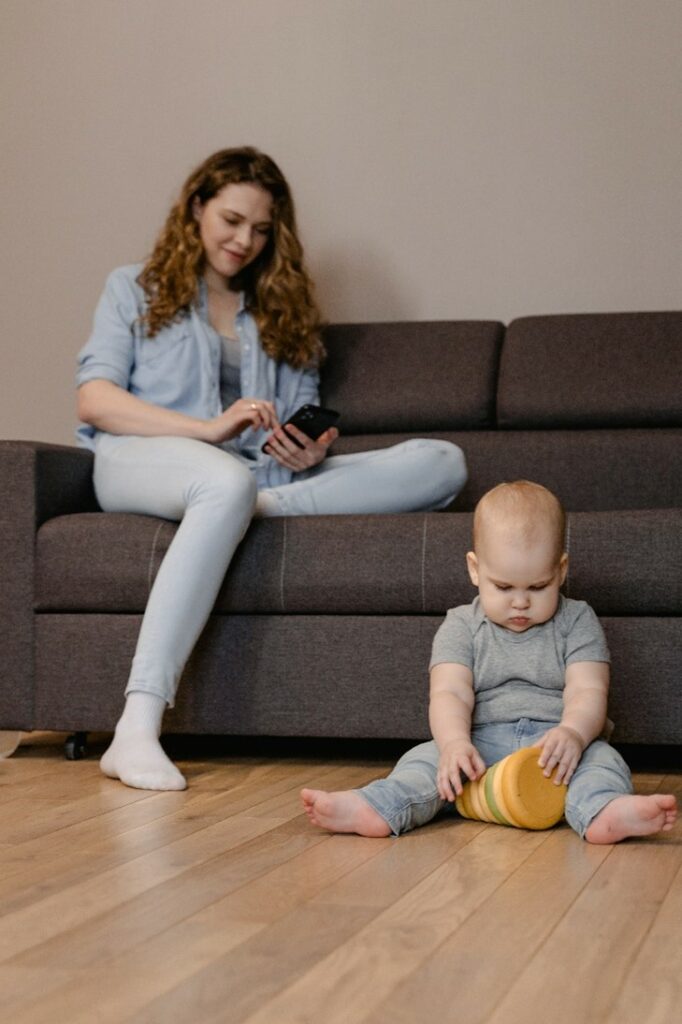 It is not only the direct use of screen media by children that needs to be considered. Parents' use of a mobile phone in the presence of their child or a TV set running in the background can also disrupt a child's healthy development and learning.
Lepp, A.; Li, J.; Barkley, J. E. College Students' Cell Phone Use and Attachment to Parents and Peers. Comput. Hum. Behav. 2016, 64, 401–408. https://doi.org/10.1016/j.chb.2016.07.021.
Li, C.; Cheng, G.; Sha, T.; Cheng, W.; Yan, Y. The Relationships between Screen Use and Health Indicators among Infants, Toddlers, and Preschoolers: A Meta-Analysis and Systematic Review. Int. J. Environ. Res. Public. Health 2020, 17 (19), E7324. https://doi.org/10.3390/ijerph17197324.
Yang, G.-Y.; Huang, L.-H.; Schmid, K. L.; Li, C.-G.; Chen, J.-Y.; He, G.-H.; Liu, L.; Ruan, Z.-L.; Chen, W.-Q. Associations Between Screen Exposure in Early Life and Myopia amongst Chinese Preschoolers. Int. J. Environ. Res. Public. Health 2020, 17 (3), E1056. https://doi.org/10.3390/ijerph17031056.
Ricci C, Poulain T, Rothenbacher D, Genuneit J. The Associations Between Media Use, Midpoint of Sleep, and Sleep Quality in German Preschoolers: A Mediation Analysis Based on the Ulm SPATZ Health Study. Nat Sci Sleep. 2021;13:1025-1035. doi:10.2147/NSS.S307821