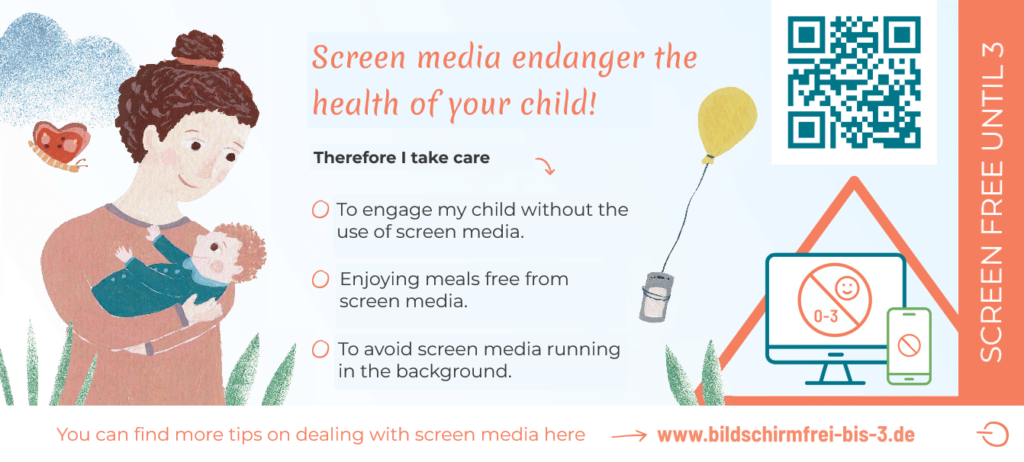 We would like to welcome you to the "Screen free until 3" study and the associated parent program.
With "Screen free until 3", we would like to make you aware of the dangers associated with screen media and accompany you during the first 3 years of your child's life.
Many days of joyful anticipation lie ahead of you, during which we would like to accompany you as part of this research project. Our aim is to support you in bringing up your child in a healthy and media-competent way. To this end, we provide you with important information, letters for parents, questionnaires for self-assessment, numerous checklists and creative inspiration.
Let us surprise you! We look forward to working together for the benefit of your child!
With warm regards
Your "Screen free until 3" team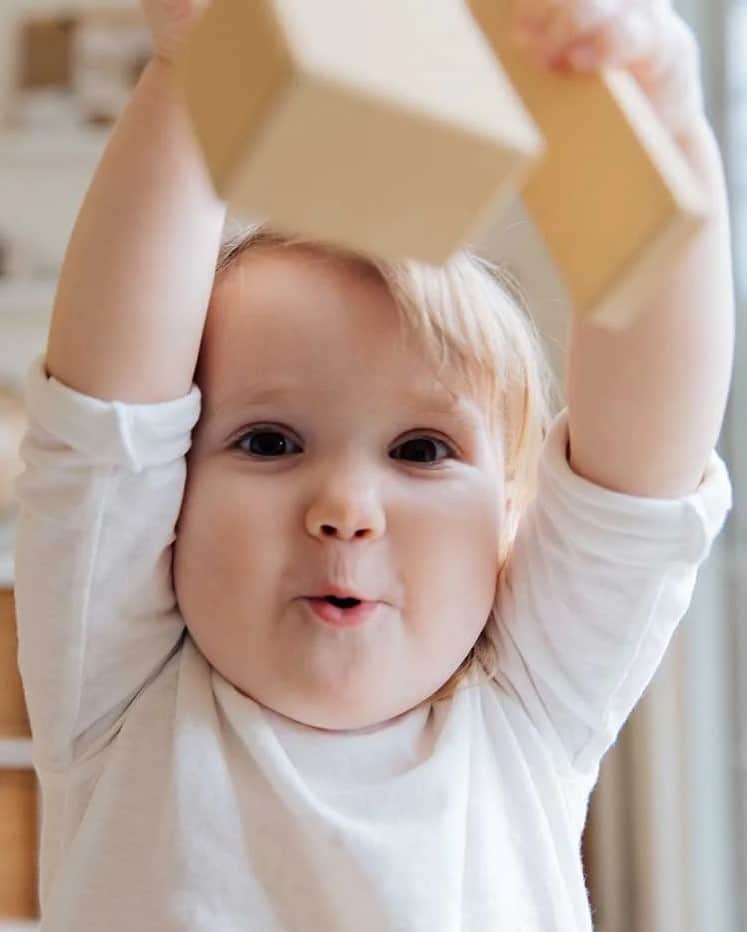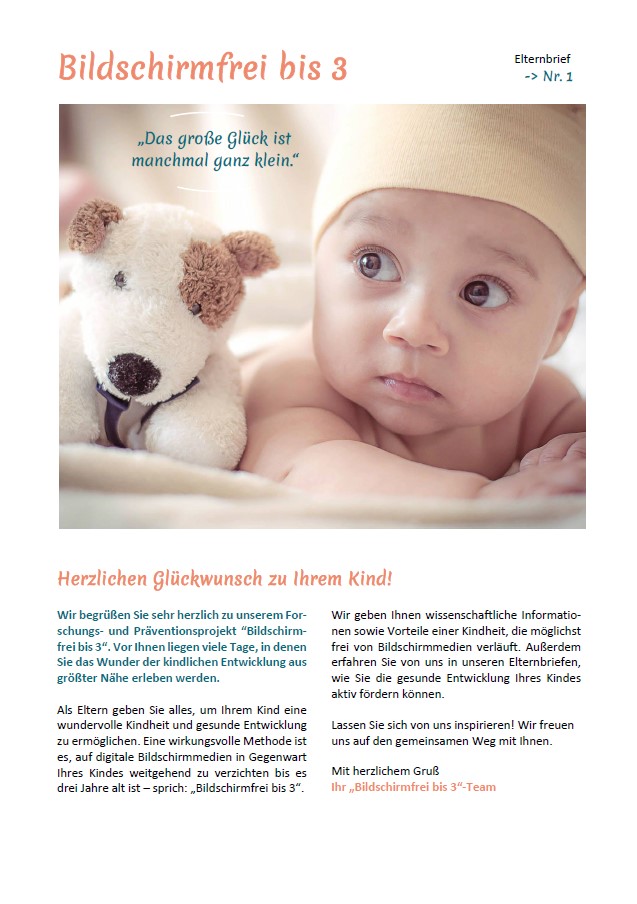 Tronick, E., Als, H., Adamson, L., Wise, S., & Brazelton, T. B. (1978). The infant's response to entrapment between contradictory messages in face-to-face interaction. Journal of the American Academy of Child Psychiatry, 17(1), 1–13. https://doi.org/10.1016/s0002-7138(09)62273-1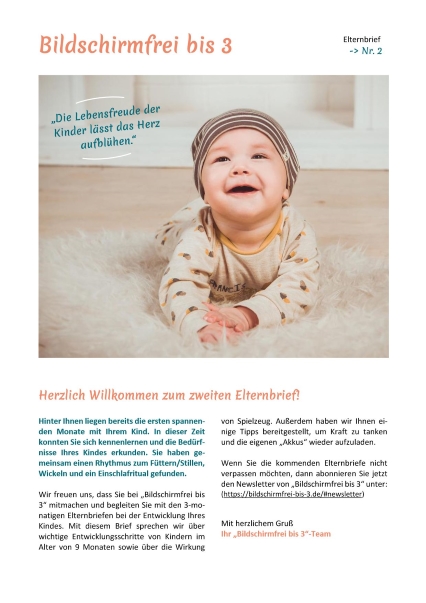 Koşkulu, S., Küntay, A. C., Liszkowski, U., & Uzundag, B. A. (2021). Number and type of toys affect joint attention of mothers and infants. Infant Behavior and Development, 64, 101589. https://doi.org/10.1016/j.infbeh.2021.101589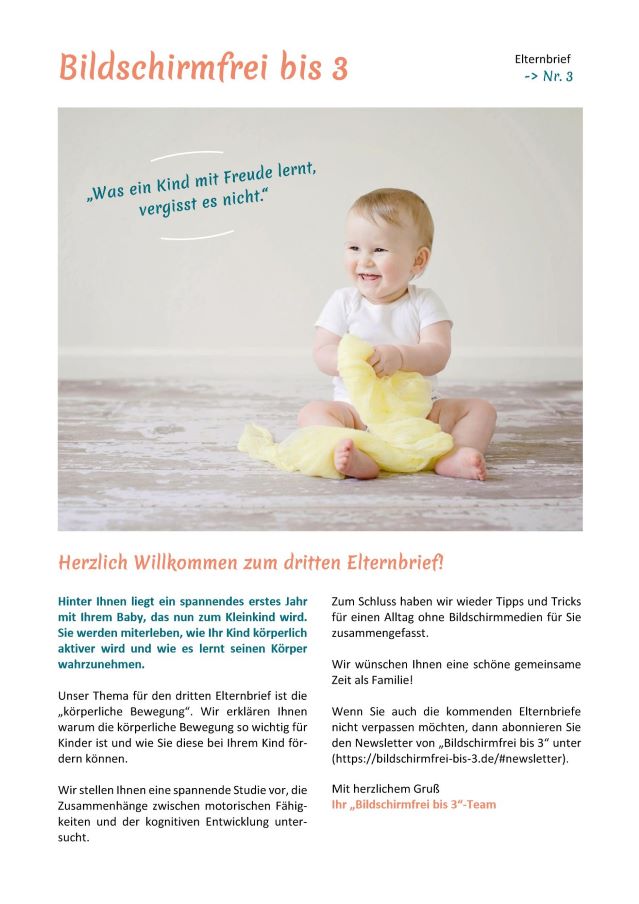 Veldman SLC, Santos R, Jones RA, Sousa-Sá E, Okely AD. Associations between gross motor skills and cognitive development in toddlers. Early Hum Dev. 2019;132:39-44. doi:10.1016/j.earlhumdev.2019.04.005
Gale CR, O'Callaghan FJ, Godfrey KM, Law CM, Martyn CN. Critical periods of brain growth and cognitive function in children. Brain J Neurol. 2004;127(Pt 2):321-329. doi:10.1093/brain/awh034
Schneider S, Erb HH. Bewegung macht Kinder schlau: Spiele für Körper, Geist und Seele. Christophorus; 2004.
Would you like to get to know the Schäfer family a little better from the parent's letters?